Today is THE day! I am going to lose this weight! :D I decided to create this blog mainly for my own motivation. I feel like if I know i have to come on here and update every day or every other day that I will strive to do my best and during as well as at the end of my journey I will be very happy that I can come here and veiw my progress. Here are my stats. :)
5'1
157 lbs
bust: 371/2 inches
waist: 321/2 inches
hips: 371/2 inches
left leg: 22 inches
right leg: 22 inches
left arm: 11 inches
right arm: 10 1/2 inches
PICTURES:
sorry about the dirty mirror.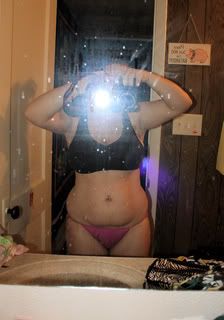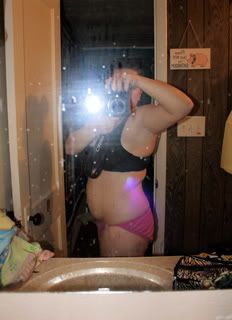 Long Term Goal: 120lbs
first short term goal: 150lbs
short term goals after that is every 10 lbs
I will update with my stats and pictures every week.
I would like to lose the weight by May 2012
My Plan:
I want to get around 30-40 min. of exercise 5 days a week.
I am going to be eating serveral low calorie foods throughout the day.
ONLY WATER and LOTS of it
very limited sweets
small portions when eating large meals (we go out to eat every sunday)
Playing with my sweet four year old, Arianna. :P
Breastfeeding my precious 2 month old, Camden :)
A picture of them this morning. :)
I need this to be a lifestyle change. I am not going on a diet. Once I reach my goal weight I want to continue this plan in hopes to stay at that weight and be healthy.
I actually started my lifestyle change on September 1, 2011 at 165lbs and i have lost a good amount of weight with minimal excersice and a lot of cheat days but today is the day, I am going to buckle down and do this! :) Along with losing weight my lifestyle change also includes growing my hair out, keeping it its natural color and keeping it healthy as well as my body and reading all of Jodi Picoult's books! :) LOVE THEM! I have read 2 so far, 'The Pact' and 'Keeping Faith'. Today I am starting 'Salem Falls'.
So this morning I am super proud of myself! :) I only got maybe 4 hours of sleep last night but instead of going back to bed this morning (I wake up with my husband when he goes to work at 4:50am) I did my workouts for 40 min. :) Then I had my breakfast, Special K chocolatey delight cereal in 2 % milk. I feel GREAT right now, aside from being tired. :) Now since I know that sleep is very important also I did get a few more hours in. Just a side note: my kids are amazing. They sleep until 10 am. :)